For good reason, the Alienware Aurora has long been a favorite among gaming PCs. It has an appealing design with RGB lighting, plenty of high-end gaming power, and, most importantly, is simple to update with new components over time. The newer Aurora R13 doesn't interfere with the recipe too much, but it does include some notable improvements, most notably Intel's new 12th-gen processors for even faster everyday performance.
Is it worth the money, and can it compete with the greatest gaming PCs on the market? The Aurora R13 is a significant investment, especially when equipped with a high-end graphics card and processor, and it necessitates a significant amount of room in your gaming area. After weeks of gaming and working on this futuristic behemoth, these are my opinions.
The Aurora R13 is designed for PC gamers who want a lot of configuration choices and the ability to replace components without having to use a lot of tools. Because this device is huge, it's also perfect for people who have a lot of room under or above their desks.
The Alienware Aurora R13 is Dell's newest flagship gaming PC, featuring a sleek design with configurable RGB lighting and compatibility for the latest Intel processors as well as Nvidia and AMD graphics cards. Its main selling point is its upgradeability, which is achieved by simply opening the system and swapping out most of the components without the use of any tools.
How it compares: The Aurora is by far the most powerful gaming PC we've ever tested, outperforming similarly equipped rivals like the MSI Aegis RS in gaming tests. Thanks to its easy tool-free design, it's also one of the easiest to upgrade. The Alienware system is one of the more elegant and understated we've seen, but it's also one of the largest, so it won't fit into your setup as easily as a smaller choice like the Corsair One.
A design that's both futuristic and understated
The Alienware Aurora R13 has a simple look for a gaming PC, but that doesn't mean it won't attract attention. The sleek white ovular shape of the desktop resembles a mystery pod that has fallen out of a spaceship, ready to unleash something dreadful inside. Fortunately, you'll just find some quite powerful computer components within.
With a height of 20 inches and a width of 9 inches, the Aurora takes up a lot of room, but it does so with style. My attention was pulled right away to the tiny strip of RGB lights in the front, which is complemented by the quiet yet captivating hum of the illuminated fan visible just behind it. Although you may choose a translucent side glass to show even more of the PC's illuminating insides, I thought the clean, white solid panels on our review machine to be an exceptionally good fit for my home office.
Regardless of how much RGB lighting you actually want to see, the superb Alienware Command Center program will give you lots of options. The power button, front-facing ring, and fan on the system can all be altered individually or collectively, whether you want them to all glow a solid color or toggle a variety of interesting effects that allow them to pulsate in and out in different hues. The Rainbow Wave effect, which pours out an Easter basket's worth of color that beautifully cycles around the system's front strip, drew me in particularly. Despite the large number of options available, I found Command Center to be simple to use and was able to create my own custom color profiles in minutes.
Plenty of ports and easy upgradability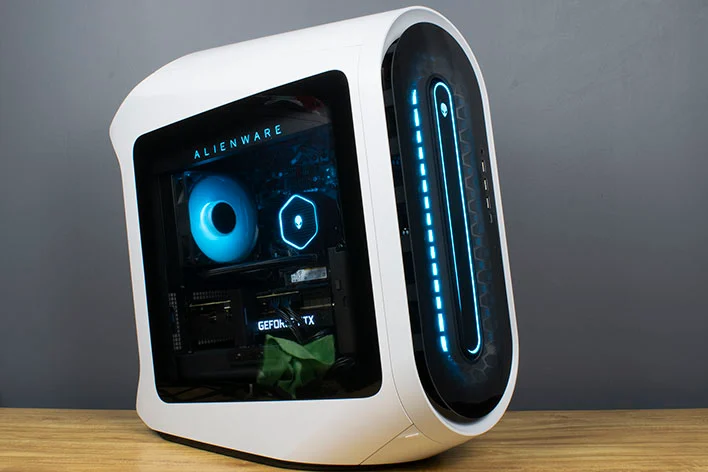 Of all, appearances are only one aspect of the equation; the Aurora's connectivity and expandability are as impressive. Starting with three USB-A ports, a USB-C port, and a headphone jack on the front, there are plenty of connections for attaching peripherals. I love having simple access to both USB protocols because my current crop of keyboards, mouse, cameras, and headsets use a mix of the two.
Around the back, you'll find a much larger selection of connectors, including four USB-A ports (two of which are the newer, faster USB 3.2 standard), two USB-C ports, an Ethernet jack for wired internet, and a full range of audio jacks for connecting your speakers. The system's Nvidia GeForce RTX 3080 graphics card offers three DisplayPorts and a single HDMI port, allowing you to connect to numerous monitors with ease.
The Aurora line has long been noted for its ease of upgradeability, and the R13 model is no exception. I was able to effortlessly take off the side panel after rapidly removing a hand screw on the rear of the machine, enabling instant access to the PC's internal components – no tools required. The graphics card, RAM, and storage can all be swapped out and upgraded without the use of a screwdriver, while the processor and power supply will require the use of tools. This is a significant benefit for people who desire the option to upgrade their desktop over time but are afraid of disassembling a computer.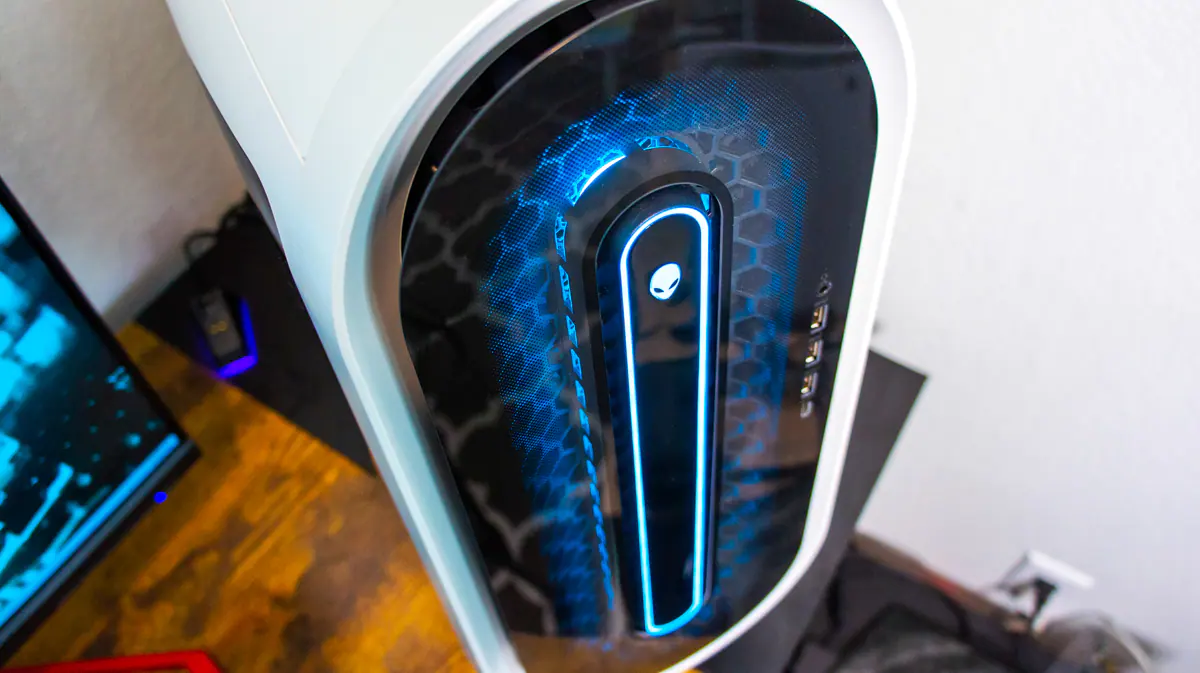 Some of the best gaming PC performance out there
The Alienware Aurora can be customized with the most cutting-edge gaming components. As a result, our beefed-up review unit — which features a 12th Gen Intel Core i7 processor, 32GB of memory, and an Nvidia RTX 3080 graphics card — is one of the most powerful gaming PCs I've tested.
This combination of processing and graphics power allowed me to play my favorite PC games at their full potential, without having to choose between maintaining a smooth framerate and immersing myself in the highest visual settings. Doom Eternal's frenetic demon-slaying action ran at a blistering 146 frames per second at 1440p resolution with all graphics settings maxed out, allowing me to fluidly jump and dash around the battlefield while seeing every gory detail of my enemies (for reference, we consider at least 60 fps ideal). Forza Horizon 5's more serene driving action performed admirably on Alienware's PC, as I was able to drift my way through Mexico at speeds of up to 100 frames per second with identical graphical settings.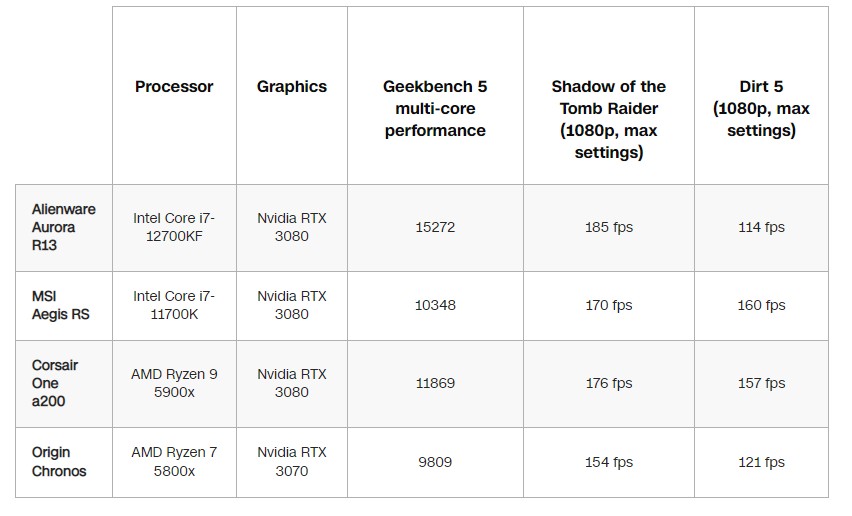 The Aurora's outstanding real-world gaming performance was echoed in our benchmark testing, where it outperformed nearly every gaming PC we've ever tested in nearly every category. The system outperformed other RTX 3080-powered rivals such as the Corsair One a200 and the MSI Aegis RS in our Shadow of the Tomb Raider 1080p test, averaging 185 frames per second (our current best gaming PC pick). The Aurora only trailed the MSI Aegis by a small margin on the Dirt 5 benchmark, with a score of 114 fps. This is still more than adequate for consistently smooth gameplay, although it does lag behind the MSI Aegis.
The Aurora R13, on the other hand, was in a league of its own in terms of raw processing capability. Alienware's desktop is the first we've tested with Intel's latest 12th Gen processors, and the advantages of purchasing a system with the newer chip became clear right away during our tests. On the Geekbench 5 general performance test, the Aurora scored 15,272, which is nearly 32% higher than the MSI Aegis we tested with an 11th Gen Core i7 processor. All of that power came in helpful in regular use, as the Aurora remained silent even when I was juggling multiple programs and Chrome tabs for work or blazing through PC games.