Your dream ultra-portable drawing, note-taking, and photo-editing gadget may be the new iPad mini (6th Gen).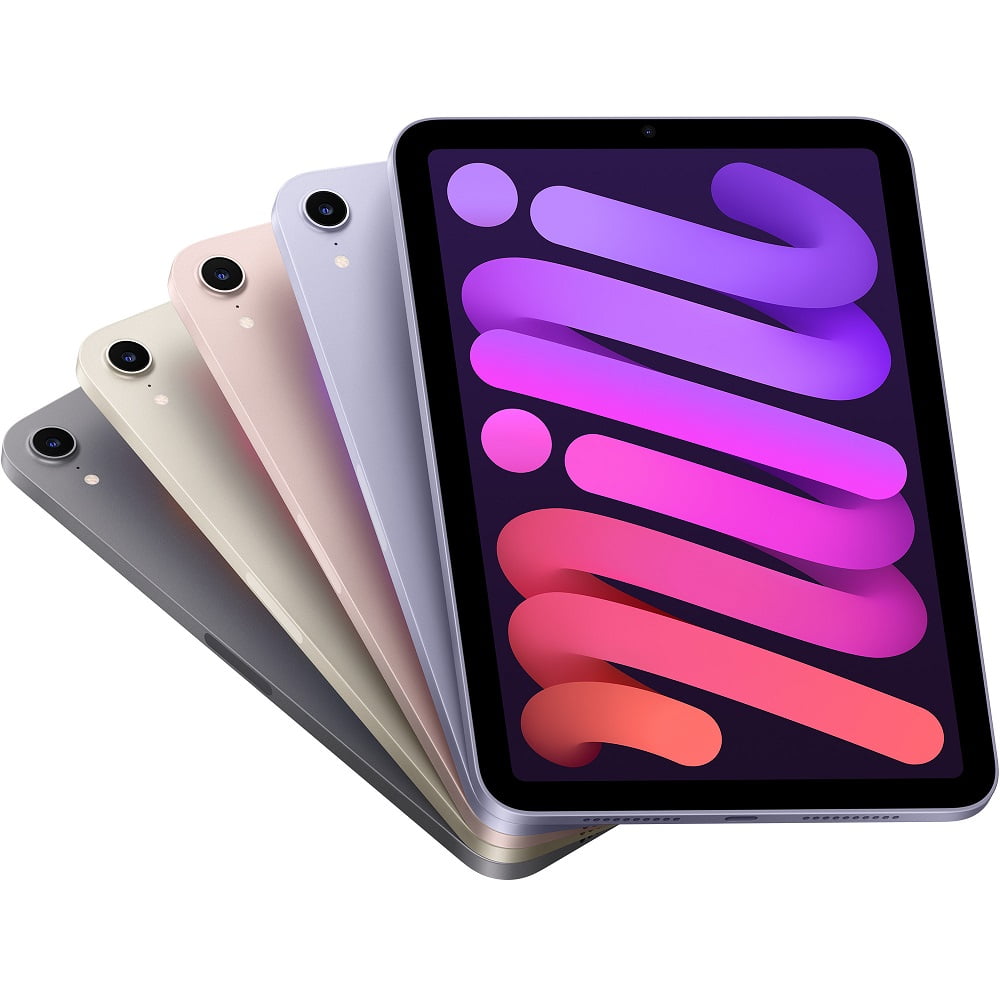 The iPad mini (6th Gen) is an excellent tool for artists. It is capable of handling rather complex creative tasks while still fitting in a coat pocket. The addition of a larger screen and support for the Apple Pencil 2 only strengthen its position as a portable powerhouse. It's true that some individuals will find the screen to be too small, but as a technique to guarantee that you never miss an opportunity to create, it's unmatched.
Since the first appearance of the updated iPad Pro in 2018, we've been waiting for the iPad mini (6th Gen) to redefine the smallest iPad.
The absence of a USB-C port and compatibility for Apple Pencil v2 was a disappointment. Recent iterations of the iPad mini had Apple Pencil support and boasted high-end processors from Apple's range, making them strong portable creative tools.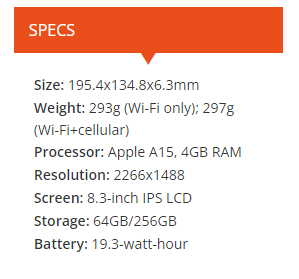 The iPad mini feels like it is finally realizing its full potential as a portable powerhouse now that we have both, and Apple has added a larger screen size into a body that is slightly smaller as a bonus. This is especially true when you take into account the option for 5G connectivity.
When inspiration comes for your sketching (or music-making, or photography, or podcasting, or illustration, or whatever), it's right there in your bag. Because it's so light, you can carry it wherever you go without feeling burdened.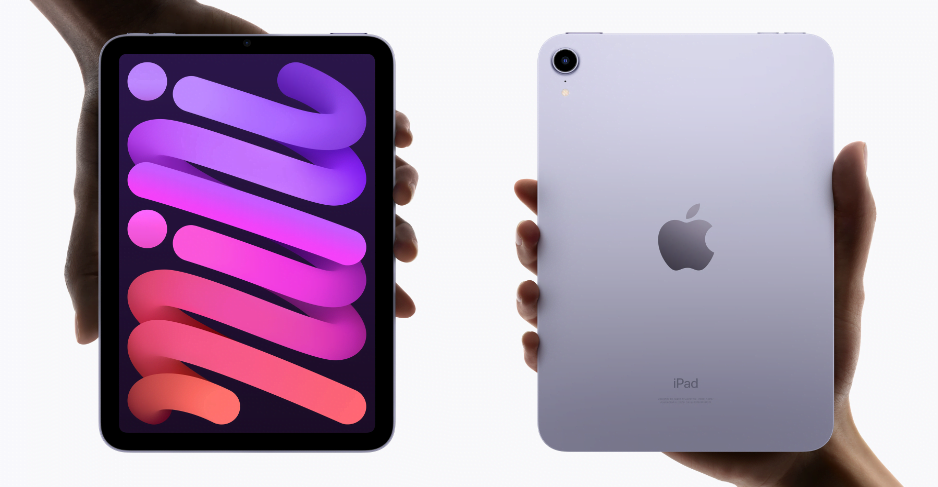 It might never be the right choice for some creatives because the screen is still much smaller overall than the other iPad generations, but if you'd rather have something ultra-light you can take with you in addition to a laptop, it's great.
Although there are a few features it lacks that may annoy you and the price has gone up to reflect the upgrades and new design, we believe the overall package will be difficult to pass up.
iPad mini (6th Gen) review: display
The new iPad mini 6 screen features a resolution of 2266×1488, or 326 pixels per inch, making it wonderfully sharp for viewing from any angle. These days, phones have resolutions higher than this, so a tablet isn't really necessary. After all, it exceeds print resolution.
Unlike the previous 8.3-inch screen, which had a 4:3 aspect ratio, the new screen has a 3:2 aspect ratio. We believe that this is a really smart choice for a device of this size because it maintains more height than 16:9, which is better for viewing photos and documents, while the extra width makes it better for watching video (smaller letterbox bars).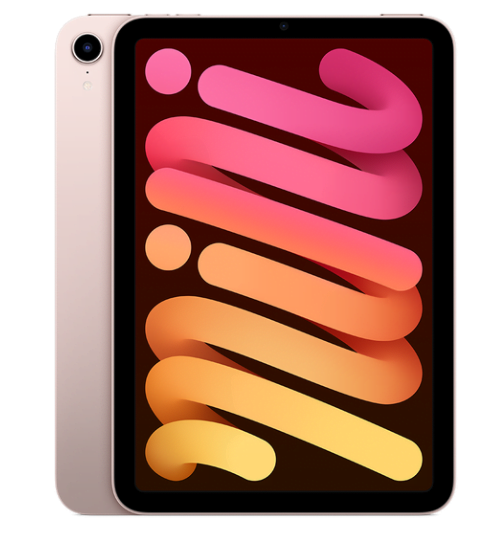 The screen quality hasn't altered all that much, generally speaking. It still has a standard brightness of 500 nits, supports DCI-P3 colors, and uses Apple's True Tone technology to make reading in artificial light more comfortable.
It is fully laminated and features an anti-reflective coating, just as the previous generation. Visibility is good thanks to this and the overall brightness; the iPad Pro stands out more thanks to its 600 nits of brightness, but the iPad mini performs admirably all things considered.
Its only notable flaw is contrast; while it's not terrible, it lacks the depth of black tones that an OLED panel or the mini-LED backlight on the 12.9-inch M1 iPad Pro can provide.
Other than that, the panel's color accuracy, vibrancy, and evenness all impressed.
iPad mini (6th Gen) review: Apple Pencil 2
The Apple Pencil 2 offers a significant improvement over the original model in terms of overall usage, therefore we are thrilled to see it supported here. As we discuss in greater detail in our comparison of the Apple Pencil 1 and Apple Pencil 2, the utility is what makes the difference rather than the drawing precision or low latency, which are roughly the same on both (Apple rates them for 9ms).

The new iPad mini's side accepts the Apple Pencil 2 magnetically, and while it's there, it charges the iPad mini's battery. This means that whether you want to doodle, edit images, or take notes, it is always nearby and charged and ready to go.
Another useful feature of the Apple Pencil 2 is the ability to double-tap it to activate a tool. Additionally, we favor its matte covering over the glossy finish of the original.
Users of the Apple Pencil should be aware that the iPad Mini's screen still has the 60Hz refresh rate of its predecessor and does not have the 120Hz ProMotion fast-refresh screen that is exclusive to iPad Pro models.
In comparison to the iPad Pro, this means that there is a slight delay (fractions of a second) before you see the results of your drawing. While this is not a problem for writing notes or sketching, it might be annoying for those who want to do something more complex.
iPad mini (6th Gen) review: power and performance
The A15 Bionic, the newest chip from Apple, is present here. The fact that it has six CPU cores and five GPU cores (matching the ones in the iPhone 13 Pro) and uses 4GB of RAM rather than the 6GB of RAM found in the iPhone 13 Pro is interesting since it suggests that it may be a slightly modified version of the original.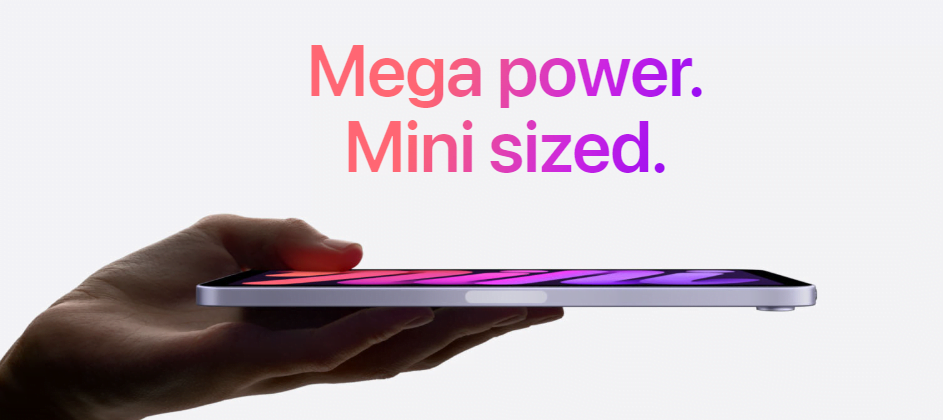 It is still a fantastically strong piece of equipment, though. Only the M1 chip in the iPad Pros beats its Geekbench 5 benchmark scores of 1604 for single-core performance and 4620 for multi-core. The same is true of GPU power; other than Apple's crazy top-end CPU, no other tablet (or phone) comes close to competing. majority of laptops don't even produce this much grunt.
The only area where you might experience difficulty is with the 4GB of RAM because it might limit features like the number of layers you can have in a high-res image you're editing. However, there comes a point where you have to wonder why you're trying something that complicated on an eight-inch screen.
We've discovered that the iPad mini is incredibly speedy and fluid when it comes to editing 4K video, working quickly on imported photographs (even raw files), and creating and editing music tracks.
This year's added benefit of 5G performance allowed us to test the iPad mini on EE's UK network and achieve download and upload speeds of 300 Mbps and 30 Mbps, respectively. These speeds should allow you to swiftly start and stop using the cloud while you're in a 5G area.
Finally, it appears that battery performance is somewhat hit-and-miss. According to our usage, Apple estimates that you should have roughly 10 hours of light web surfing or offline movie watching.
When we tried to stream Netflix for two hours at maximum brightness and volume, the battery life was reduced by 40%. The iPad 10.2-inch (9th generation) performed 30% worse on the same test, suggesting the iPad mini's smaller size and slightly brighter screen than that model will perhaps mean less life overall.
iPad mini (6th Gen): key features
The quality of the cameras on the iPad mini has been significantly improved. The back camera is now a wide-angle 12MP f/1.8 unit with an upgraded sensor and significantly enhanced image processing.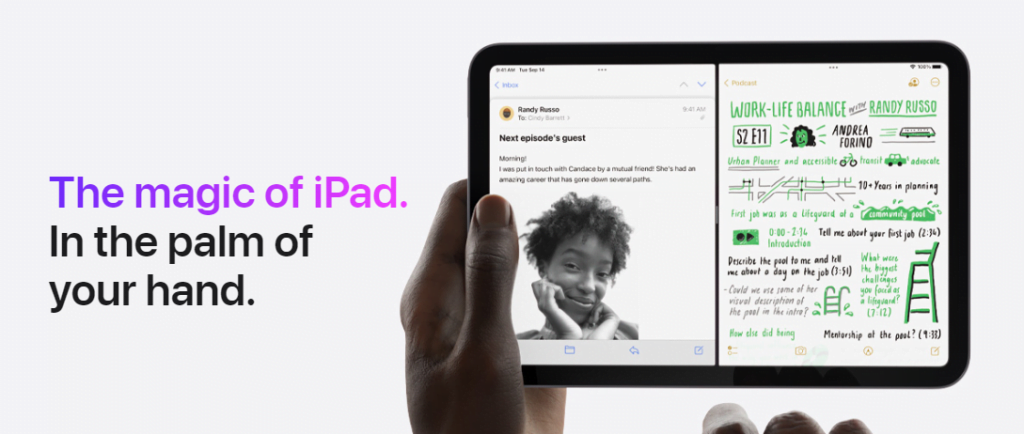 The final product is like comparing day and night; the new camera performs significantly better in terms of detail, color, and handling contrast in an image. The iPhone SE would be the closest model from Apple's lineup to this level, which is roughly equivalent to a mid-range phone.
It also has Apple's incredibly effective image stabilization, which is a feature of its newer phones that is vastly undersold and can virtually eliminate annoying handshake from videos. It can record video at up to 4K 60fps.
The front-facing camera is even more intriguing because it has Apple's "Centre Stage" feature, which allows the iPad to follow you around the room while you're on a video conference without having to move.
This is due to the fact that, while being an ultra-wide lens, it only crops into a portion of the view whenever it notices a face. Afterwards, if you move while remaining in its (vast, 122°) range of view, it just moves its cropped area to follow you. When it detects two individuals in the field of view, it simply enlarges the area it displays to accommodate both of you. The only minor drawback is that it only allows for 1080p Full HD, rather than 4K, video from the front camera, which is very clever and extremely useful.
iPad mini (6th Gen): design
If you've seen the most recent iPad Air or perhaps the iPad Pro, the iPad mini's design will look very familiar to you. There are flat sides and a relatively slender bezel around the screen that are all composed of one piece of aluminum. The bezel has enough room around it to be comfortably held.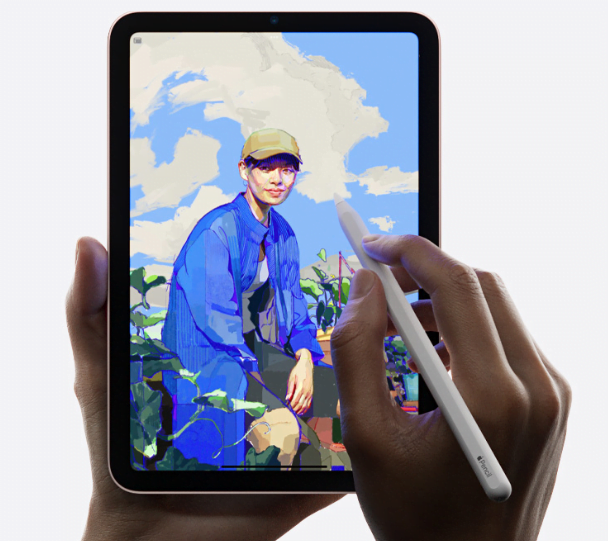 The Touch ID fingerprint security has been moved to the Sleep/Wake button, which works flawlessly and is quick, but if you're used to an iPhone with Face ID, it can be difficult to adjust to the fact that this one needs a fingerprint because it is so similar in size and has an identical Lock screen.
The portability of this device—which weighs less than 300g and is smaller than an A4 notebook—is its true superpower. It is more comfortable to hold for extended periods of reading than a larger iPad, and since it weighs nothing, you won't have to weigh the benefits of carrying it against the burden of carrying it around. Simply bring it with you!
iPad mini (6th Gen) review: should you buy it
Because it is incredibly powerful and portable due to its compact size and low weight, the iPad mini is in many ways the ideal creative tool. Everything you put at it, including sketches, edits, writing, recordings, illustrations, and uploads, it can manage.
The iPad mini (6th Gen) has a number of situational issues. It fails you if all you want is a 3.5mm jack. It's useless if you want the precise drawing that a 120Hz screen provides. That's it if the screen is too small.
However, Apple creates larger iPads for this reason. Purchase one of the others if you require those items. The iPad mini completely realizes the promise of the ability to never lose out on a creative burst because you didn't have the resources available.